Getting you back to an active and pain-free life.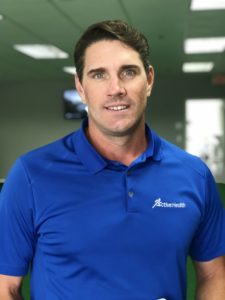 Jeffrey D. Lipp, DC, DACBSP®, FIAMA
Dr. Lipp is originally from rural southwestern Pennsylvania, south of Pittsburgh. He transferred in the middle of his junior year of high school to attend The Bolles School, where he played football and track & field. After graduating Bolles, Dr. Lipp attended and played football at The University of Mississippi (Ole Miss) before transferring to Indiana University of Pennsylvania (IUP). Dr. Lipp played quarterback for the Arena Football 2, Jacksonville Tomcats in their inaugural 2000 season before an injury ended his season.
Dr. Lipp then entered Palmer College of Chiropractic in Davenport, Iowa. He then played for the 2002 Quad City Steamwheelers while attending Palmer. He completed his Sports Injury and Rehabilitation internship, and became Board Certified for Physiotherapy in 2003 through the National Board of Chiropractic Examiners
He graduated from Palmer in 2004 then became Board Certified for Chiropractic through the Florida Board of Chiropractic Medicine. He completed his Fellowship from the International Academy of Medical Acupuncture (FIAMA) and became Board Certified for Acupuncture in 2006 through the National Board of Chiropractic Examiners and Florida Board of Chiropractic Medicine. Dr. Lipp is also a Certified Chiropractic Sports Physician (CCSP) and a Diplomate of the American Chiropractic Board of Sports Physicians (DACBSP®). The experience Dr. Lipp has as a former professional quarterback allows him to relate with his patient's injuries and their pain.
Dr. Lipp and his wife, Amanda, live in St. Augustine with their three children, Grace, Lauren, and Max.
Christopher T. Brown, DPT
Dr. Brown received his Bachelor's in Exercise and Rehabilitative Sciences from Slippery Rock University in Pennsylvania and his Doctorate in Physical Therapy with the highest honor, Summa Cum Laude. He served as Slippery Rock's Graduate Assistant for Gross Anatomy Lab while also teaching cadaveric dissection labs giving him superior anatomical knowledge. He completed a clinical affiliation with the world-renowned University of Pittsburgh Medical Center (UPMC) in Pittsburgh, Pennsylvania working with patients presenting with a wide variety of health conditions including:
spinal cord injury, neurodegenerative diseases such as Alzheimer's, Parkinson's, and Multiple Sclerosis, in addition to treating orthopedic conditions non-operatively, pre-operatively and post-operatively.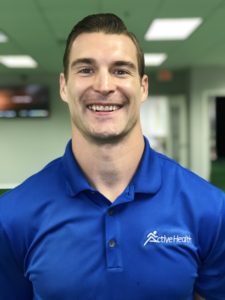 Dr. Brown is the only physical therapist in north Florida currently authorized to perform Active Release Techniques (ART) treating a wide variety of pathologies throughout the body. Dr. Brown is the "physical therapist version of Dr. Lipp" while also using what he learned at Slippery Rock and UPMC, providing the best of both worlds to treat his patients. He is passionate about making a difference in his patient's health and well-being.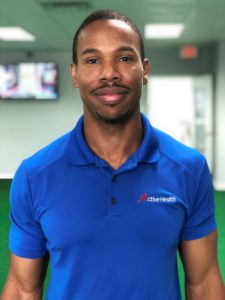 Joshua Wise, PTA
Joshua completed his Associates Degree of Science in the physical therapist assistant program at Florida State College at Jacksonville with the highest honor in 2016. He is currently certified in corrective exercise prescription from National Academy of Sports Medicine (NASM) and in Applied Functional Science from the Gray Institute. During 2013-2017, he was a successful competitive powerlifter and in 2013 was American Powerlifting Federation's "raw" national champion in the 198lbs weight class. His years of competing as powerlifter helped him to understand the importance of exercise mechanics, biomechanics, and posture and how they impact active individuals of all statuses who are looking to make gains ranging from weekend warriors to pro athletes.
Taylor Card, CPT, ERYT-200, RYT-500
Taylor is the Clinic Manager and Yoga Teacher for Active Health. She joined the Active Health Team in September 2016. Taylor worked as a Swim Coach and Lifeguard through highschool and college. Taylor currently holds certifications as a Personal Trainer, 200 Hour ERYT & 500 Hour Registered Yoga Teacher, Holistic Nutritionist, Health & Wellness Coach and Post Rehab Exercise Specialist. Taylor's desire to help people improve their health and connect to their bodies led her to attain a RYT 200 Hour certificate from Yoga Den in 2018. In her spare time, Taylor enjoys surfing, paddle boarding and practicing yoga.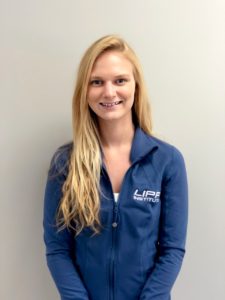 Ready to get back to an active and pain-free life?